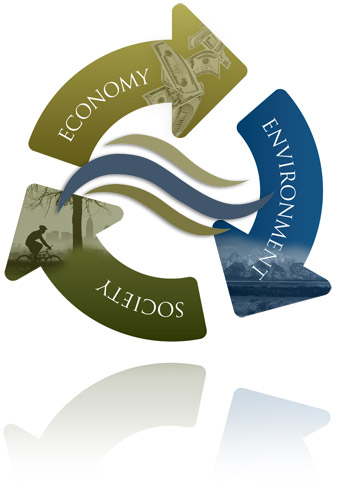 At Affinity Consultants, we believe in sustainability – not only for our clients, but for ourselves.
Sustainability means that we are performing as a successful business while ensuring the longevity of our natural resources and the welfare of our community. Through the triple bottom line of society, environment and economy, we aim for sustainability in every operation of our business.
ECONOMY
As a business consulting firm with a focus in sustainability, environmental, health and safety, we help our clients to implement sustainable solutions that will allow them to remain profitable; however not at the cost of society or the environment.
We strive to provide our clients with services to achieve top-line growth and bottom-line savings through:
• Reduction of Administrative Costs
• Risk Reduction
• Competitive Distinction
• Increased Market Share
• Waste Reduction Savings
ENVIRONMENT
Affinity truly believes that we have moral commitment to protect and conserve
our environment. Most of our employees have environmental science
backgrounds and we all strive to conserve our environment for future
generations in our professional and personal lives.
Our Environmental Projects:
Energy Efficiency
– Corporate office retrofitted with High-Efficiency furnace
– Lighting retrofit of all corporate office lighting to high-efficiency fluorescent bulbs
Paper Reduction
– Recycled, 2-sided printing default, 100% recycled paper
– E-Newsletters and articles sent via email
– Utilize audience response technology in place of paper exams for client trainings
Waste Reduction
– Recycling program for paper, plastic, glass, aluminum and cardboard
– Utilization of 1 cup coffee brew system and elimination of all coffee filters
– Material tracking for all office waste/recycled materials
SOCIETY
We at Affinity care about our community and all of the people that we come in contact with personally and professionally. Community service is important to all of our employees.
Our employees support many community service organizations across NE Ohio.
Community Organizations Served:
American Red Cross
Animal Rescue Organizations & Shelters
Canal Fulton Library
Cleveland State Farmers' Market
Community Theaters
Cub Scouts
Lend a Hand Food Pantry
Lions Club
Local Boosters Organizations
Northwest Schools
Ohio State Parks
Salvation Army
Summit County Children's Services
Talk About Potential
Wayne County Children's Services
Youth Soccer Programs
How We Can Help

Affinity works with organizations to better understand their environmental impacts, create corporate sustainability reports, facilitate strategic sustainability planning, and drive sustainability implementation programs throughout the organizational culture. The results have been improved ecological and social footprints, unique forms of product branding, competitive distinctions, customer loyalty, retailer negotiating leverage, improved workplace conditions, and reduced costs-of-operations. Our customers have been nominated for regional and national sustainability awards, while being recognized as leaders within their communities.